2020 National Conference
PDSI 9970, "Are You At Your Best? Empowering (At-Hope) Students to Self-Manage"
A Full five day experience now On Demand
We hope you enjoy this rejuvenating conference, which includes everything you've grown to expect from SI and more.
Replenish, Rejuvenate & Remember Why You Teach
Trauma Informed Strategies (TIS)
Resiliency Training Options
PLC Collaboration, including Teacher Empathy & Stress Reduction
From STEM to STEAM: Place-Based Education Independent Study
Innovative On-Line Teaching Strategies
Relational Equity
Important Wellness Activities
Course Requirements:
3 credits (45 hours) – Passing grade: Attendance & journaling.


Letter grade: Passing requirements, plus written reports on presenters

4 credits (60 hours) – Passing grade & letter grades same as 3 credits, plus one independent study book reading/report on, The  RESILIENCE BREAK THROUGH, 27 Tools for Turning Adversity into Action, by Christian Moore, Why Try Founder
Additional Links & Materials
Course Information
Course title: PDSI 9970
Are You At Your Best? Empowering (At-Hope) Students to Self-Manage
Location: Online
REGISTER NOW
Raising a Heisman, Parents of Heisman Trophy Winner Joe Burrow, Principal Robin and Coach Jimmy Burrow
Christian Moore, Founder of WhyTry.  Inspire your staff by introducing them to the principles The Resilience Breakthrough.  Discover the power of resilience. Explore how to increase your personal resilience by tapping into the 4 sources.
Empowering (At-Hope) Students to Self-Manage…the First Step to Reducing Teacher Burnout!  Do you as a teacher experience the following student behavior: Cussing, laughing, bullying teachers, being rude, looking at their phones, walking out in the hall way, throwing things and even getting physical with you? Coach Ricardo uses his university coaching experience, style and motivational techniques to inspire (At-Hope) youth to learn how to succeed in the classroom and future career settings.
Capturing Effort.  World Champion Coach Golden Pat Ruel will provide a unique professional growth experience for our SI educators. Participants will learn how to incorporate the Seattle Seahawks system to succeed with classroom management and performance! While you are learning valuable tips on how to coach your students to strive for perfection, you will be entertained with humorous stories about this years Seahawks and other NFL stars!
Matt Overweg Presents, Educators…the second wave of frontline workers fighting Covid-19.  Our education system will forever be changed by the Covid-19 pandemic.  There will be a new normal when educators walk back through the classroom doors.  Are you prepared to handle those changes?  Educators will be faced with the task of not only their normal academic responsibilities, they will be presented with the daunting task of handling Childhood trauma. While in quarantine many children will have faced death, abuse and overall emotional turmoil. In this unprecedented time, schools are going to need to think outside the box and draw from every resource possible.  That's why forward thinking teachers like Matt Overweg will be one of the education systems biggest assets.  With his therapy Dogs Stella and Cooper they can provide the comforting presence necessary for students to handle anxiety.  During his presentation you will be introduced to his loveable 4 legged friends.  Matt will give a brief overview of how the dynamic duo has become a hit in his school district and the benefits he sees on a daily basis. He will provide necessary information to guide other teachers interested in their own therapy dog.
Former WSU Head Coach presents, Bringing Respect and Manners Back into the Classroom.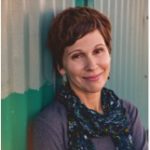 Harnessing Adversity and Believing in the Power of Now.  Ingrid Ricks is an NYT-bestselling author, writing coach, inclusion activist and inspirational speaker who is passionate about leveraging personal storytelling to foster healing, awareness, empathy and change.
Derrick Veale is managing St John's Community School's online learning. He is an expert in teaching computer courses to educators, students and community members. For over 18 years, Derrick has taught RESA and Summer Institute technology courses along with numerous professional development sessions at various schools and levels. Participants will learn: "short cut" applications to improve teaching productivity, ZOOM, and Google Classroom.
Thinking about our Country and our Students using Nathanson's Compass of Shame:  A Restorative Practice. Mary Beth Brady has worked with the Santa Fe Public Schools in Santa Fe for longer than she cares to admit. She founded the first district-wide Restorative Justice program and now works with the district's team of Digital Learning Coaches.
Art With Cassidy. Art with Cassidee will work with each individual painter to provide proper instruction so painters can walk away feeling as thought they did something they never thought they could do while having a great time doing it!