A typical day at a Summer Institutes Conference
Learn from high-quality academic presenters – and have fun in the process!
Summer Institutes:
Encourages teachers, counselors and administrators to seek a better understanding of the importance of all educational relationships and personal wellness through our professional growth conferences.
Emphasizes the value of multi-topic courses that explore Relationships, Relevance and Rigor.
We understand the pressures that educators can feel in the current "high-stakes testing environment." Summer Institutes' academic resources and relation-based networking support will help teachers continue to strive for those important high academic performance goals. For the past four years our workshop surveys show a significant increase from private school teachers, public school teachers, NEA and AFT members about burnout, increased stress, as well as lack of time and energy to develop supportive relationships. Our goal at Summer Institutes is to combine test-based education with relationship-concepts in order to decrease teacher stress and increase student achievement.
A typical day at Summer Institutes consists of a unique combination of standards-based, multi-topic keynote speakers, subject specific breakout sessions, educational field-based learning trips and wellness/relationship options.
What makes Summer Institutes Unique?
Multi-topics keynote speakers address teaching strategies that are not normally covered in single subject courses – Example: In a single subject math course, you would not receive information on topics like, "How To Handle Bullying in the Classroom," "Student Self Esteem," "Building Relationships," and a variety of other relevant topics
Place-Based Education Opportunities
Place-based education (PBE) immerses students in local heritage, cultures, landscapes, opportunities and experiences, using these as a foundation for the study of language arts, mathematics, social studies, science and other subjects across the curriculum. PBE emphasizes learning through participation in service projects for the local school and/or community.
Place-based Education Goals
Place-based education can "feed three birds with the same seed" as it addresses the integrated goals of:
Student Achievement – PBE boosts students' engagement, academic achievement, and sense of personal
efficacy as stewards of their local environment and community. It also can re-energize teachers.
Community Social and Economic Vitality – PBE forges strong ties between local social and environmental organizations and their constituencies in the schools and community, which helps to improve quality of life and economic vitality.
Ecological Integrity – Through project-based learning, students make tangible contributions to resolving local environmental issues and conserving local environmental quality PBE is experimental learning that engages students in their own environments. It begins with: Where am I? What is the natural & social history of this place? How does it fit into the larger world? Learning takes students out of the classroom and into the community and natural environment. Students want to learn and apply their knowledge to solving real problems.
Additional Education Opportunities
Subject specific breakouts allow teachers, through group interaction, to share and learn with peers from other schools. This is a rare opportunity for teachers to become interactive with their subject-specific peers and exchange ideas and materials.
Educational field-based learning trips allow teachers to explore educational resources within their local area. For example, teachers in the state of Washington have experienced the Westport Maritime Museum, Seattle Underground, McCord Air Force Base, Bremerton Naval Ship Yards, and UW Space Learning Center—important applied teaching connections for classroom activities in multiple subject areas. In California, tours were set up at Lawrence Livermore Laboratory, Yosemite National Park, Barnes & Nobles, and Vandenberg Air Force Base etc., for the expressed purpose of aiding classroom comprehension.
Wellness/relationship options to end each day – Health and relationships are equally important factors in all of education. Without health or the ability to cultivate relationships, a person is limited in reaching his or her full potential. For twenty years, Summer Institutes has encouraged and facilitated wellness/relationship activities.
There is a National Epidemic of unhealthy Americans. This health problem is not just about overweight people. The article, "Take Health to Heart," in the March, 2006, issue of the neatoday states, "The leading health issue for women teachers is heart disease. Stress is triggering chemical reactions in the body that damages arteries."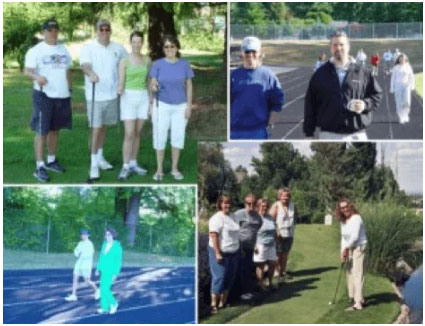 At Summer Institutes Workshops, educators receive valuable strategies regarding stress reduction, which has a positive impact on their teaching performance. Above all, teachers can also be the first line of defense against our national health crises by modeling and addressing wellness issues for our youth in the classroom.
ALERT NEA Members:
We understand the importance of academic accountability, but there is a growing concern with educational time management. Some school districts are stealing recess time for extra academic work. Our workshops address this area of concern! At Summer Institutes, educators are trained to implement "Cognitive Movement with Meaningful Games" into their curriculum. Students can play while doing academic work!
For twenty-one years Summer Institutes has trained teachers (see photo below) to incorporate classroom activities like relays with problem solving "academic pit stops" that could include reading, math, science, social science, etc.
The time has come for everyone to recognize that building relationships and wellness is vital to success in education. If we can excel in these areas both personally and professionally, then improvement in a person's ability to increase knowledge will be enhanced.
Testimonials
Below are testimonials from strong leaders, who support a balanced approach to Relationships, Relevance and Rigor.
"Members of our staff and I are planning to attend the Summer Institutes again this year as we found it most informative. Thank you for providing us with a diverse array of educational topics and for affording us the opportunity to exercise more than our minds – we loved the morning walks. Thank you."
Tim H. Wood, Ph. D.
Superintendent, Saugatuck Public Schools, Michigan
"In our culture of high academic performance, Summer Institute's key focus on helping teachers embed Rigor and Relevance to their curriculum, as well as providing them with effective strategies to build exceptional student, parent, and staff relationships hits the mark perfectly! The quality of the SI keynotes and agenda provides a real breadth of strategies to reach all children in our schools. As the primary clock hour provider for the SI program in Washington State, we are proud to continue a long standing relationship with SI program in 2019."
Superintendent Rich McBride,
North Central Educational Service District, Washington