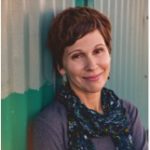 Seizing the Power of Now
with NYT Best Selling Author Ingrid Ricks
On the verge of self-imploding after a one-two punch of breast cancer and blindness, Ingrid Ricks,NYT bestselling author and mother of two, realized she had a choice: let fear and self-loathing swallow her whole, or give her inner demons the boot and rewrite the soul-destroying stories she was telling herself. In this transformational workshop, Ricks draws on her personal journey and the life-changing lessons she learned to help you tap into the power of Now and unleash the life you want and deserve.
Utilizing several interactive exercises, Ricks will help you:
Rewrite the Negative Stories You Tell Yourself
Strip Fear of its Power
Turn Your Adversity into an Asset
Embrace Change
Go For it – Whatever IT is
Additional Independent Study to complete 15 hours which = 1 graduate semester credit: Read Author Ingrid Rick's best seller book "Focus" and answer 10 questions. Submit into Canvas apartment.
2 credit option: Complete one credit requirements above and then complete a one day Place Based Education experiential learning experience. Journal your hours of PBE and wellness, plus answer 10 questions and/or complete your finished product story (15 hours). Submit into Canvas apartment.
Ingrid Ricks
Transformational Speaker, Memoir Coach, and NYT Best-Selling Author
Important Links:
About Ingrid Ricks
Ingrid Ricks is an NYT-bestselling author, writing coach, inclusion activist and inspirational speaker who is passionate about leveraging personal storytelling to foster healing, awareness, empathy and change.
Over the past seven years, she has helped more than 2,000 students of every age find healing and empowerment by writing the deeply personal stories they needed to tell, and has produced seven anthologies in partnership with high schools to raise awareness about the serious challenges today's youth face.
Ingrid, who views personal storytelling as the key to healing and unity in today's divided world, has teamed with Summer Institutes since 2015 to bring her personal narrative workshops to educators through live conferences and online courses. She also teams with other organizations throughout the Pacific Northwest.
Ingrid's books include the coming-of-age memoir, Hippie Boy: A Girl's Story, and Focus, a memoir about her journey with the blinding eye disease Retinitis Pigmentosa. She has also ghostwritten several memoirs and has shared stories from her childhood on Salon and NPR.
For more information, visit www.ingridricks.com,