2022 Midwest Regional Conference Livonia, MI
Teacher & Team Care Conferences
for 35 years (1987)
Robust Self-Evaluation Leads to Successful Teaching Improvement
A full five-day experience
Looking for relevant interesting professional development, college credits and rejuvenation? Why not get all three at summer Institutes?
About this conference
Interactive SI family SEL stress reducing component
Resilience in attitude and professionalism
Enhancing the group climate and culture of our schools
Increased knowledge of the importance of trusting relationships
Live virtual or on-demand track options
University of Pacific Graduate Level Credits
3 credits (45 hours) – Passing grade: Attendance & journaling.
Letter grade: Passing requirements, plus written report on presenters
Additional Links & Materials
UOP Registration Form  Please Note:  This registration form is for transcript information only, you MUST also register with Summer Institutes, see "Register Now"
to receive the credits you are requesting.
Course Information
Course title: PDSI 9945
Robust Self-Evaluation Leads to Successful Teaching Improvement
June 22 (PBE), June 27-June 30, 2022
(June 30th corresponds with Michigan Department of Education's Deadline for Credits for Continuing Education Certification for 2022)
Location: Online
8:00 a.m. – 4:00 p.m., Daily
4:00 p.m. – 6:00 p.m. Wellness Options
Dr. Troy Hicks, Central Michigan University Department Teacher Education and Professional Development
Purposeful and Engaging Arcs of Writing Instruction in an Era of Remote Learning

Jackson Kaguri, National Speaker, Author, Built three schools in Uganda. Presented twice to United Nations. Global Citizen AWARD. CNN Hero. Time Magazine's 'Power of One.'
Obstacles in Education in a Pandemic World
Tracy Hazel, Advanced Training and Consulting (CPR/AED info). One of the Super Instructors in North America
Achieving Work-Life Balances… The Teacher's Version
Derrick Veale, Director, St. John High School
Computer Ideas to Make Teachers' Jobs Easier and Organized, Part 2
Teachers greatly appreciate this session. Each year Derrick presents ideas that fit busy teachers.
Lisa Fisher, A Founding Investor for Lansing Keller Williams Realty Franchise. Serves on the Leadership Council for the Small Business Association of Michigan
Self-Leadership
Lisa Fisher has a passion for working with others to achieve THEIR definition of success.  Using her talents as a business coach, and her library of training topics, she has worked with a variety of Businesses and Individuals to help them identify what success means to them and creates customized plans to lead them there.
From creating training modules in her younger days for developing leaders for McDonald's to subcontracting with Keller Williams International coaching and training CFO's all across US and Canada, Lisa has had a strong foundational platform for building others.
Place Based Education Day at Michigan State University, June 22, 2022, with complimentary lunch in OKemos.
If you are taking both conferences (Lansing and Livonia) or unable to attend because of driving distance, participants will still need to do a Place-Based Education day to fulfill your course requirement(s).  See "Place-Based Education" below for details.
Place-based education (PBE) immerses students in local heritage, cultures, landscapes, opportunities and experiences, using these as a foundation for the study of language arts, mathematics, social studies, science and other subjects across the curriculum. PBE emphasizes learning through participation in service projects for the local school and/or community.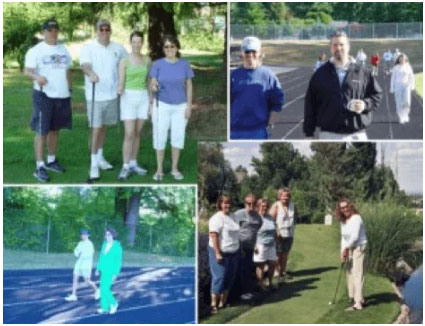 All participants will be encouraged to participate in 2 hours of self-care wellness at the end of each day.
Dick graduated from the University of Detroit with a Bachelor of Science in Biology and Minor in Math. He received his Master of Science in Biology from St. Mary's College, Winona, Minnesota and his MA in Educational Leadership from Michigan State University.
Dick has taught science and math at the middle and high school level and health sciences at the college level. Dick is semi-retired and spent most of his last nine years teaching math and science in the Detroit Public Schools. Part of his career has been coaching football at the high school, college and professional level.
Dick received a National Science Foundation grant and is in the Michigan High School Football Coaches Hall of Fame and the Catholic Coaches Hall of Fame. He has been a Special Olympics Volunteer since 1980. Dick was also chosen to serve as Track Marshall at 1999 World Special Olympic Games in Raleigh, NC. He has been a featured speaker at Parent-Teachers Associations and Banquet Speaker at Lansing Public Schools. Dick has presented in Grand Rapids Teaching Seminar about Self-Evaluation to Quality Teaching. He also has been a speaker at Michigan North Central Association (NCA) and Chicago National North Central Association NCA Convention. In 2012 Dick was a speaker near Seattle, at Port Townsend National Teachers Workshop.
Dick has also been an Athletic Director of a Class B High School and Director of Public Relations for the Michigan High School Football Coaches Association. His work in School Improvement Accreditation included Outcomes Co-Chair in Responsible Behavior School Improvement and Chair, Steering Committee NCA (North Central Accreditation) Transition Endorsement Model. He also served on the North Central Association Visitation Team. Presently, Dick is on the Board for the Michigan State University Football Players Association and the Parkwood YMCA.
In his leisure time you may find him enjoying fishing, hunting, playing golf, gardening, landscaping and hang gliding.
A Word From the President of Summer Institutes
"Dick (Co) Comar, is the amazing Magic Man! I met Dick up against a wall at an AFCA National Coaches Convention. I asked him if Michigan Teachers need professional growth credits, explained to him what SI does and he simply said I'm in! Wow, I was sure glad to randomly meet "Co." In his first year he had 23 teachers at Okemos, four years later he had over 400! One of the fastest working and most loved and loyal man that I ever met." Scott Ricardo
Michigan Teacher Inspires Us to Inspire You:
I came expecting to be recharged and inspired – I didn't expect to be changed! No other education classes than these with Summer Institutes have focused primarily on changing the teacher so that he/she can be unleashed to make the most powerful impact possible in the world and in individual lives! With Sincerity, Angela Schneider 2020